Art Asia, founder of Southampton's annual Mela Festival, has a decades-long legacy of celebrating South Asian arts in England through music, dance, performance and visual arts.
Art Asia is a celebration of diversity and inclusivity, and we wanted to reflect that in the website.
We wanted to build a site that would do justice to the rich South Asian arts heritage celebrated by Art Asia while also being easy to use for the widest possible audience. We created designs that reflect both the rich legacy of Art Asia and the Southampton Mela Festival, and demonstrate Chaptr's commitment to high quality design.
This case study showcases some of our favourite design elements born out of this collaboration with Art Asia. The final website was a later design revision that met their requirements – and they are very happy with the result.
Our goals for this site
We balanced a wide range of key priorities in the creation and development of this site, such as:
Showcasing engaging video content in an easy-to-access way
Including visually stimulating and beautiful imagery, and
Above all, ensuring the website was accessible in every way.
Inclusivity is key
Another of our core values at Chaptr is developing talent through meaningful opportunities. We believe in investing in our community by providing emerging digital artists with opportunities to express themselves for our clients. In the case of Art Asia, our talented design intern, Jasmine, took the lead in the website design, ably supported by our seasoned design leads.
We are so proud of Jasmine's exceptional work and the opportunity we have as an organisation to support the designers of tomorrow as well as the arts and culture sector we so love. For us, this truly is the key to inclusivity – meaningful opportunities without prejudice based on age or any other factors.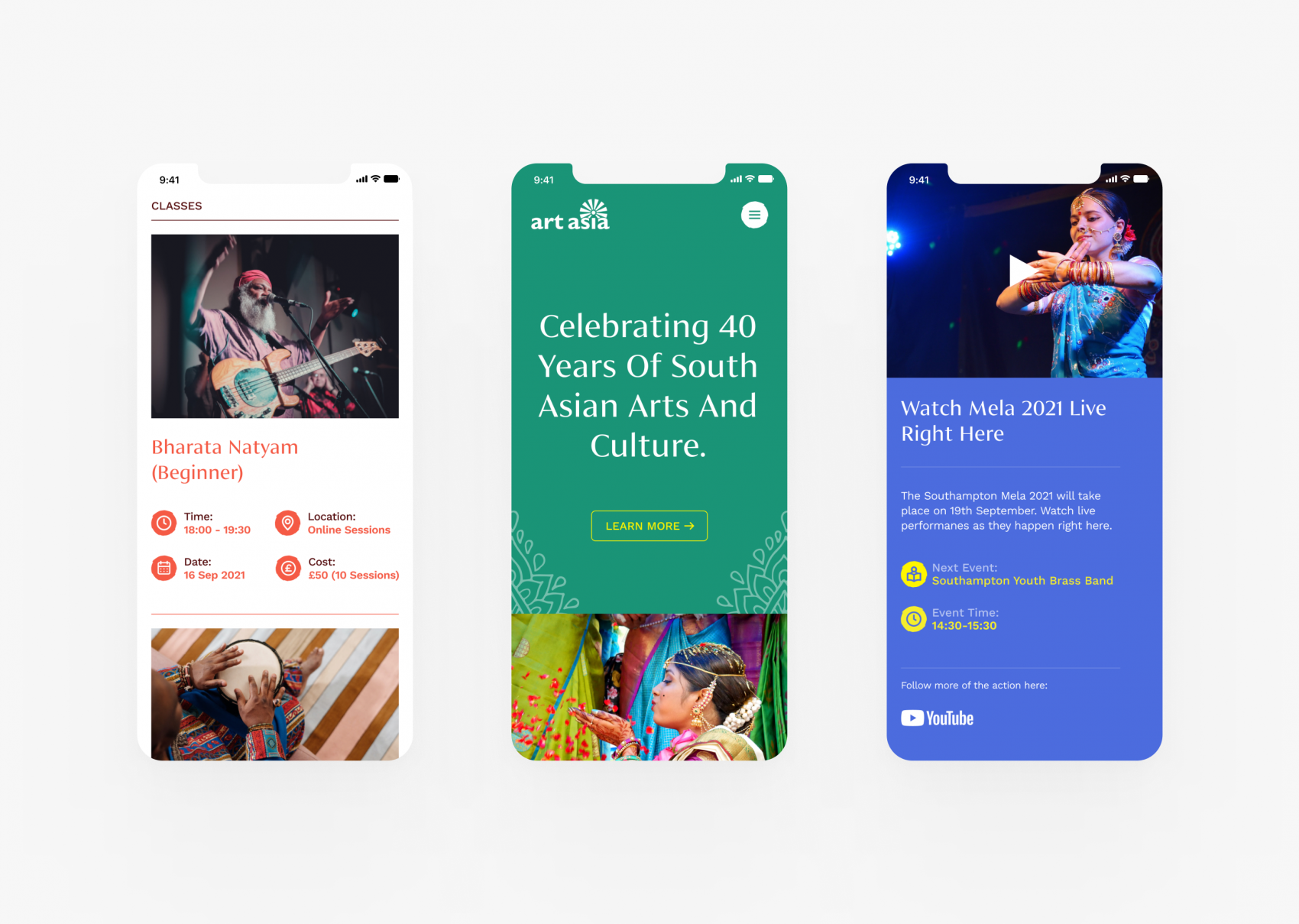 Accessibility in action
The best user experience for online design is one that can be enjoyed by as many people as possible. Accessibility is one of our core design values at Chaptr and is essential when considering how to serve a truly diverse community.
We worked with the Art Asia team to bring their brand identity to life with visually stunning colours and imagery, while still ensuring that the site design and colour palette meet the rigorous accessibility standards we adhere to.
Following our mobile-first approach, we created a site that functions equally beautifully on all devices, meaning everyone can access it, no matter where they are or what platform they prefer.
Accessibility is about more than the visual design, though. We also wanted to make sure the site was easy to navigate, with content being available through just a few intuitive clicks at any point.
From design to development
This project has been interesting to work on as it incorporates so many different facets to fully showcase Art Asia's diverse offering. We developed an integrative design for displaying concise content, impactful imagery, visually stimulating videos, and sound bites.
Our developers transformed the designs into the beautiful website you see today – an interactive, inclusive masterpiece that we're proud to have worked on. Projects like this one, which celebrate our rich art and cultural heritage, bring us to life as a team.