Digital Branding
To fully realise this vision, Chaptr set about creating a new online presence for Exeter Custom House that visitors will find and use as a resource to learn more about Exeter's heritage and inspire them to come and visit the house and quay.
Web Design
Defining The Digital Brand

Our team have designed a creative direction for the Exeter Custom House which encapsulates the wider target demographic, and the bespoke voice of the architecture that showcases the range of arts, cultural events and activities.
Target Audience

Linking Cultural Identity
We collaborated with the client to deliver a brand with a clear impression of the heritage of Exeter Custom House. Being inspired by the history of the building informed our creative decisions and led to the production of a unique and personal brand.
Accessibility Considerations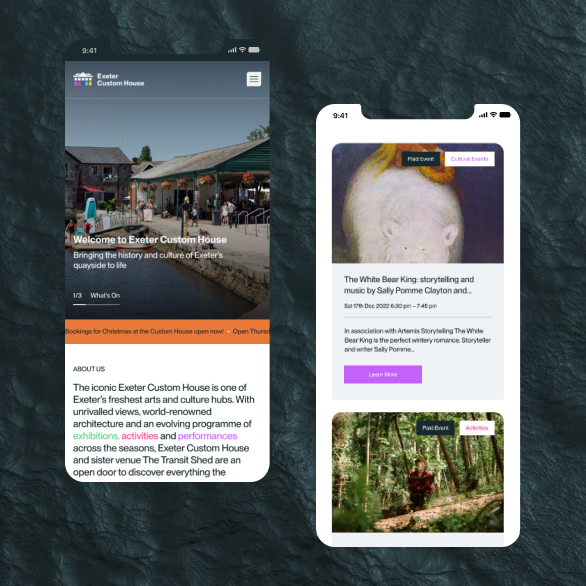 Web Development
To ensure the E.CH team have complete control over the website going forward we used a 'block building' approach, meaning that the team can re-order and create new sections internally, without the need to rely on us.
Subtle animations bring the designs to life as the website loads, ensuring the user journey feels seamless and enjoyable.
"Chaptr offered us what we needed to move forward. We gave them free rein on design but I knew they understood where we were, and what we needed to get from this process."
Anna Gilroy – Project Coordinator, Exeter Canal & Quay Trust.