Southampton is a city replete with arts and culture. We have a rich heritage, pulsating with art, drama, dance, culture, heritage, history and more.
Visit Site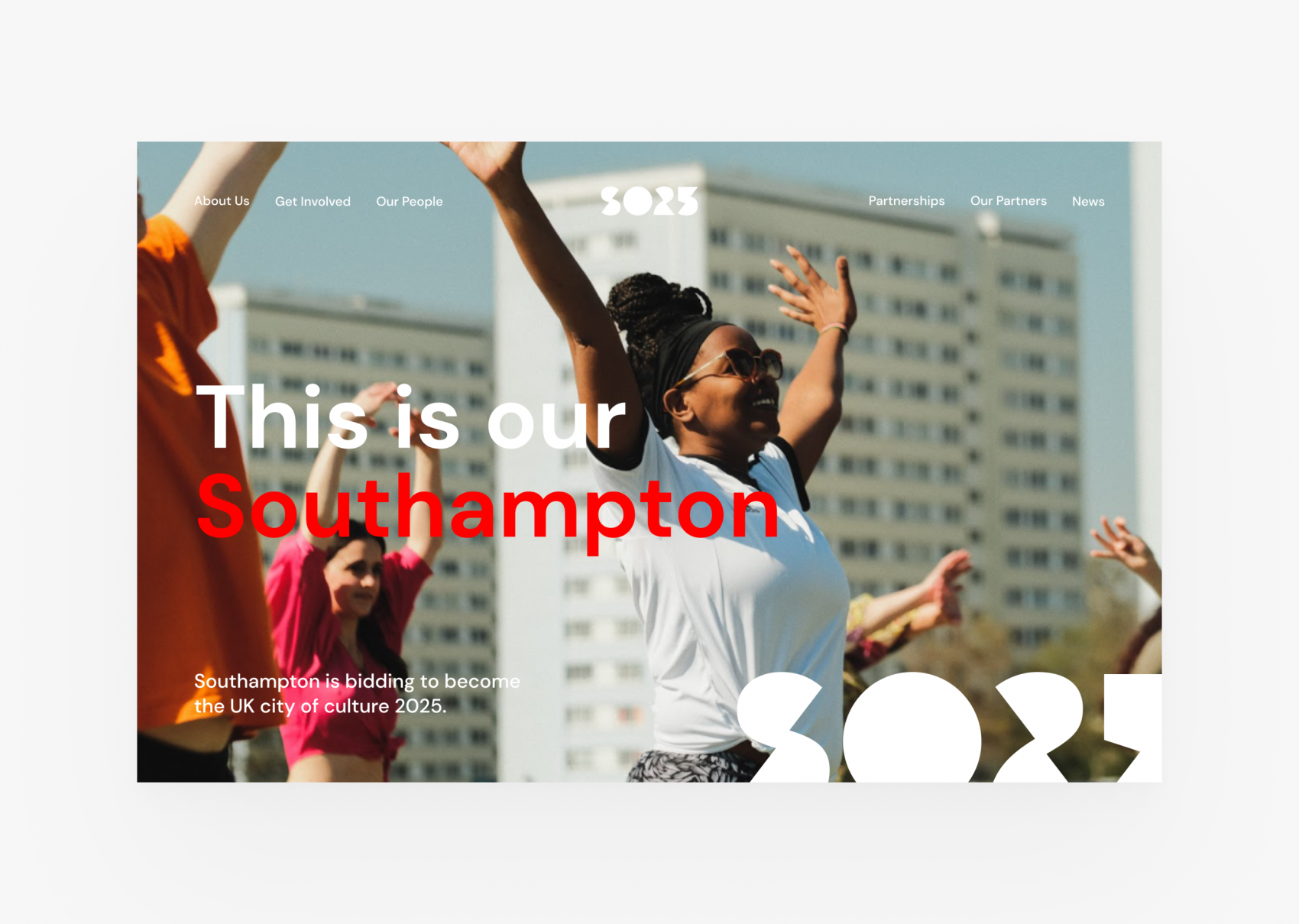 We're proud to have supported ​​Southampton's bid to be recognised as the UK's City of Culture in 2025 by creating a beautiful, interactive website that helped them to become a successful finalist!
The Southampton City of Culture was a unique opportunity for Chaptr. One of our agency strengths is bespoke website designs based on user experience insights and brand workshops. In this case, though, we were able to collaborate on the site design with consultancy North. After creating a brand identity the Southampton City of Culture bid team loved, Chaptr translated this brand identity into responsive HTML, integrating content management functionality to allow the bid team to maintain their content as the campaign progresses.
We love new opportunities to explore different approaches to design and relish the chance to work with fellow local creatives in bringing this important bid to life.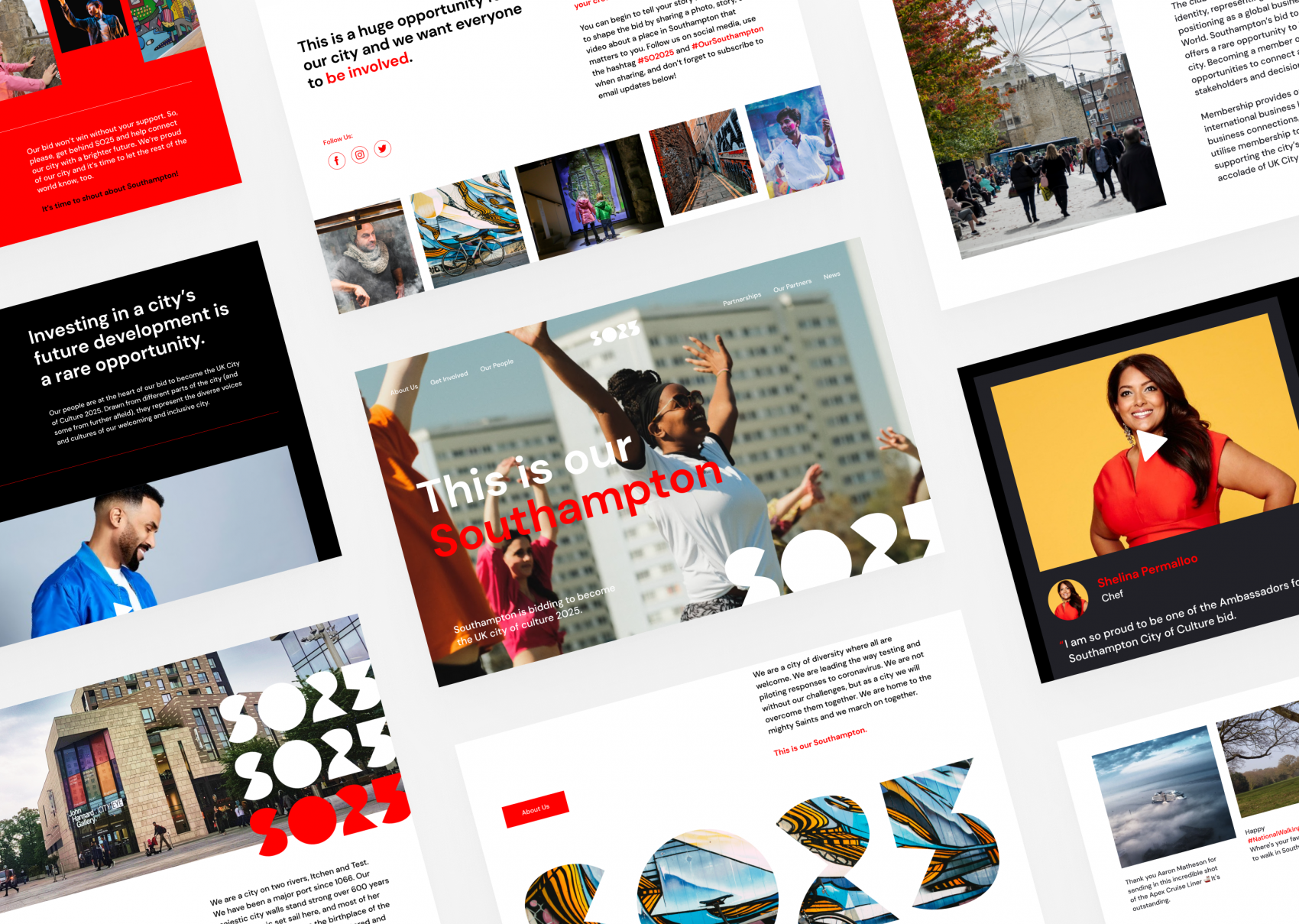 Goals
Our goal was to create an easy-to-maintain site, that was intuitive to navigate and clearly showcases all that makes Southampton a strong contender to win the bid.
It was key to convey the energy of the city, keeping the look and feel of the site modern and engaging. So, working with the visual identity supplied by the project's branding partners, North, we worked hard to create a vibrant site that encapsulated the dynamism of the city.
Challenges and Triumphs
Any web project brings its share of joys and obstacles. Navigating tight timelines and a large review panel took creative planning and project management. It was all worth it, though, as we were able to create a site design that met the aesthetic brief while at the same time delivering the accessibility we take so seriously at Chaptr.
Mapping Designs to Flexible, Pixel-Perfect Outputs
Our approach with website design is to create a robust grid layout, which scales based on the device size and allows us to rearrange page elements to create a natural, easy-to-use flow, no matter what device you use to browse the site.
Once we'd refined the design concepts into workable web layouts, we created the foundational grids for each page and each viewport size, then applied the look and feel to these grids.
Form meets Function
In the interests of efficient flexibility, we tailored a proven CMS to deliver beautiful content and interactivity in record time.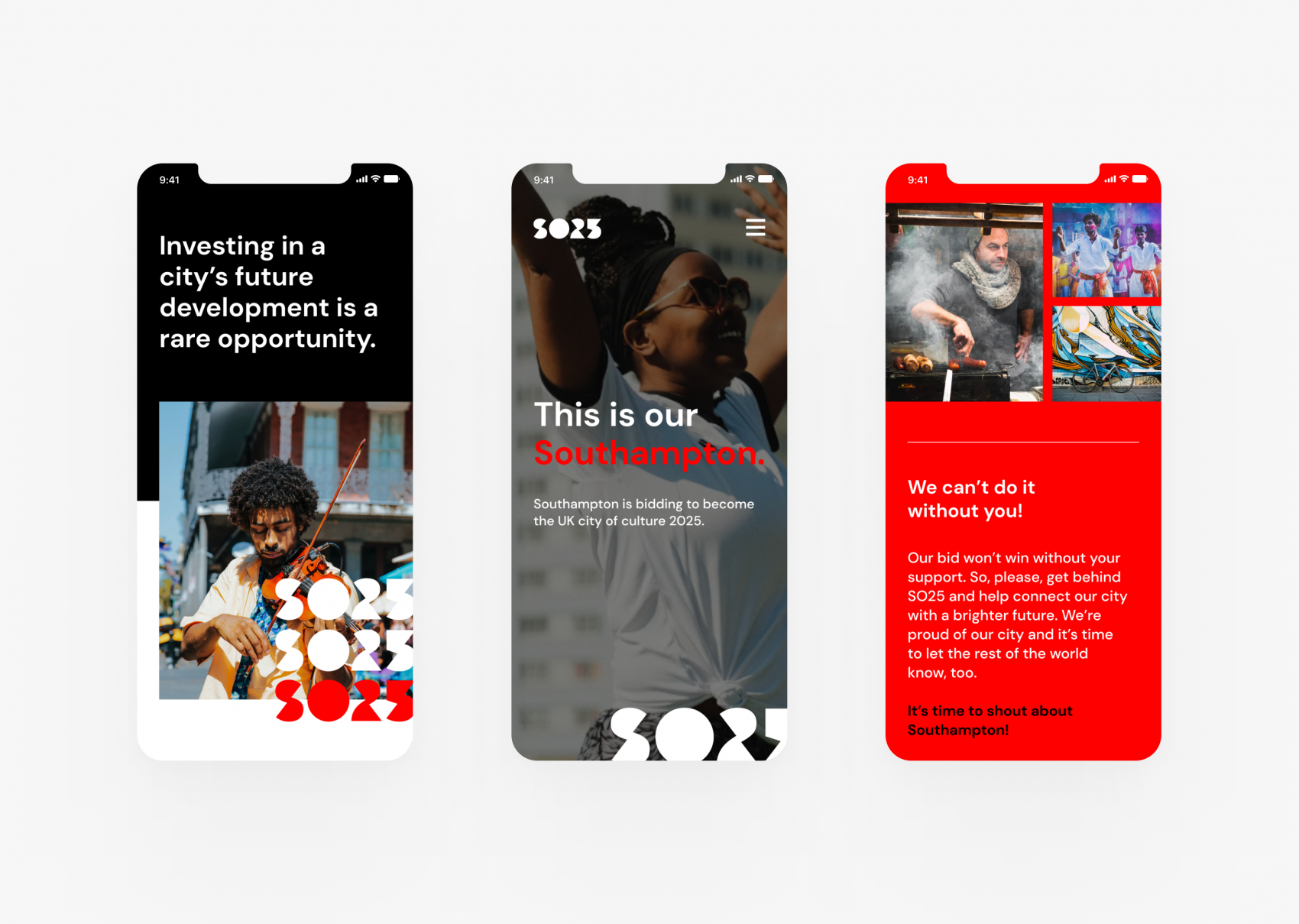 Creative Content
It was a joy to work with the content provided by the Southampton City of Culture bid team. From engaging prose to eye-catching photography and scroll-stopping video, this site has been populated with a range of media and content to appeal to our wide audience, and demonstrate that Southampton really IS the UK's City of Culture.
We ensured the content we were given met our exacting standard for search engine optimisation (SEO), then applied it to the designs with thoughtful consideration. A simple look at the site shows how the copy and imagery work together, supported by the site's flow, colouring and brand design.
This project is a proud achievement for Chaptr, a clear showcase of what can be achieved under tight deadlines and significant pressure when your passion is aligned with your project and your whole team's hearts are in it.
Why Chaptr?
Being embedded in the heart of Southampton's cultural quarter, Chaptr was a natural choice to be selected to build the digital embodiment of the city's bid for City of Culture 2025. As the Daily Echo put it, we're the 'perfect fit' for this project. Our passion for the arts sector and commitment to excellence perfectly support what the city is trying to achieve with this bid. Even so, it took an audacious, heartfelt and vulnerable appeal from Chaptr founder Joe Perkins to secure the project. Which is just as it should be: our commitment to transparent honesty is part of what makes us Chaptr.
We're right behind this bid.
"Our web agency lies at the heart of Southampton, and we aim to work exclusively with brands engaged in culture and the creative arts. We plan to become a creative hub in Southampton, nurturing and supporting local creative talent. This makes Chaptr the perfect partner to design and deliver the most remarkable City of Culture website yet."

Joe Perkins, Chaptr Founder & MD
"Working with Chaptr to create Southampton's bid website is a microcosm of what this bid is all about; partnering with local creatives to showcase the inspiration, culture and artistry that Southampton has to offer. We can't wait to see how the team brings the content to life."

Gemma Nichols, Commercial & Marketing Director, Southampton 2025 UK City of Culture bid team