We increased The Bridal Mill's sales by 30% with SEO. In just 10 months.
The Bridal Mill (and its sister business Dress To Go) is a popular local bridal wear boutique that specialises in dresses for all types of brides in the Southampton area. You can see their websites here: https://www.thebridalmill.co.uk/ & https://dresstogo.co.uk/
We had been working with the business through our design services, and knew that they had a great reputation for their service, as well as their product range. As we established our digital marketing & SEO department at Chaptr, we knew we could help them grow their business.
Goals
Though both The Bridal Mill & Dress To Go were popular in their local area, Chaptr highlighted additional areas of growth for the business online, underlining specific USP's.
In regard to the bridal side of the business, there was a clear opportunity to increase sales of the plus-size range of dresses, as not a lot of boutiques in the local area stocked that particular range.
With the prom dress side, there were specific manufacturers who were very selective about who got to stock their dresses; meaning that there was a range of exclusive dresses to Dress To Go unavailable elsewhere.
We identified the goals as:
To improve the site in terms of visibility and search engine discoverability, particularly in local searches. Ideally focussed around terms associated with "prom wear", "wedding dresses", and key USP's such as "Sherri Hill", "Plus size", "Sophia Tolli" etc. 

An increase of traffic to key pages, specifically the dress pages of each site, as well as the contact form.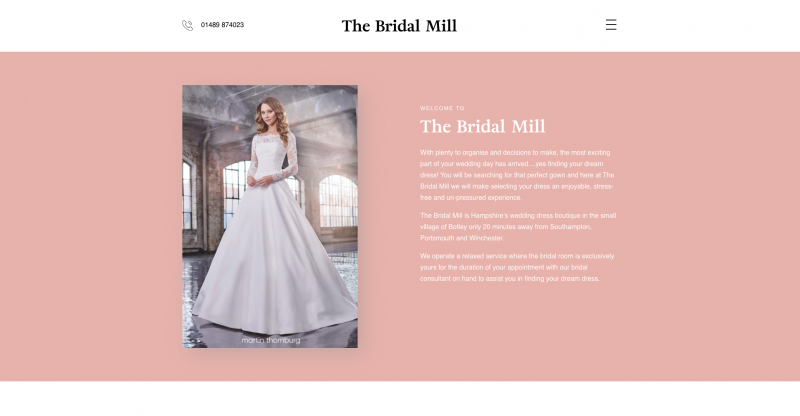 The Bridal Mill Homepage.
The project:
Since the site had no prior SEO work done (though there were Google Ads), it was important that any basic SEO tools were set up, and any necessary indexing with Google has been started.
Tech SEO
For all our SEO projects, we complete a technical audit of the site, making sure that it performs favourably against its competitors. For The Bridal Mill, we implemented some performance-enhancing tweaks which meant that the images on the website loaded faster and more efficiently, up to 4X faster than competitors in Google PageSpeed tests, helping it climb the ranks on Google SERP's.
We also set up Google Analytics and Google Search Console, making sure that Google was able to index the new pages of the website as well as any SEO optimisation we had done on the pages (keywords, alt-text etc).
We then added Schema to the website, making sure that Google could find all the necessary rich data it needs to populate search results for The Bridal Mill & Dress To Go.
Keyword research
After we finished the basic SEO audit and set up, we researched the key terms that were most important and relevant to both businesses. This involved looking at what The Bridal Mill was already ranking for, as well as getting a sense of the target audience for each page and piece of content, and the terms that that audience would use to find The Bridal Mill. As well as identifying the best terms to communicate the USP's of the business.
On-site SEO
Once we agreed on a list of keywords, we made sure that those terms were placed contextually throughout page and blog content. We took the white-hat approach of placing these keywords in a way that they were relevant to the content on the page; but also allowed the content to be indexed appropriately.
Off-site
A key part of our strategy was to make sure local listings and key directories (such as Google My Business) were fully up to date, containing all the information a customer could need before. Doing so has increased traffic by 20% in 6 months, and increased sales across the businesses by over 30%.
Results:
20% INCREASE IN OVERALL TRAFFIC

Here is a typical month in the traffic of The Bridal Mill. The blue line is traffic from 2019, and the orange line is traffic from 2018, prior to The Bridal Mill working with Chaptr.
100% INCREASE IN SOCIAL MEDIA FOLLOWING, AND A 500% INCREASE IN POST VIEWS AND IMPRESSIONS.

30+% INCREASE IN SALES ACROSS THE BOARD.

15% INCREASE IN KEY BRIDAL SALES (PLUS SIZE + KEY PRODUCT LINES)

30% INCREASE IN PROM DRESS SALES

WIDER REACH OF CUSTOMER (EXPANSION OF CUSTOMER CATCHMENT TO 50 MILE RADIUS, UP 200%)
Testimonial
"Since working with everyone at Chaptr on both businesses websites, I have been able to see a difference in our business growth. The use of the Basecamp system makes it really easy for businesses to keep in touch and up to date with progress, and ask any questions about our  project. Once our websites were both updated and redesigned, we saw an increase of enquiries from customers regarding products on our site as they found it more user-friendly . With the help of Chaptr, we have seen an increase in our traffic by 40% during our peak season compared to last year. We have also seen a change in our  Google ranking moving us to no1 position in many keyword searches based around website changes which were suggested by Chaptr. For our whole season, we have also seen an increase in sales by 30% after we implemented the new website changes. Overall, we have found working on this project very helpful and rewarding and would certainly recommend it to any other business who would like to increase their online presence."

Charlotte Rust – Owner