So, you've come on board as Operations Director! What led to this position?
I've been at Chaptr for about 5 years, and the longer I've been with the company, the more I've fallen in love with it and everything that agency life brings. I've been involved with big questions, where the agency is headed – giving my honest opinion when and wherever I can. I know our clients inside out, which is important at this level. I think it's also a case of resilience. I've supported our founders through difficult decisions, and we've celebrated the big wins over the years together, too!
When did you become part of the management team?
Well, I started as a Studio Assistant, becoming Studio Manager after about a year, give or take. It was a gradual shift into management. Aside from the job title changing, I've been taking on more and more responsibility as time has gone on. 
You must really love this place and believe in the mission to become Operations Director. What is it about Chaptr that's kept you around this long? 
Part of it is how the founders have managed both my role over the years and the agency as a whole. I say this a lot, but they're such great, lovely and honest people that I've always felt lucky to work with. I've always had a sense of autonomy – it's not been something I've had to chase. They're not into micromanagement, and they're very good at advising on decisions rather than making those decisions for me, which has enabled me to learn quickly and make decisions that have affected the agency and where it is now.
Part of it is the fact that I love working for a place that's creative; I like working with and meeting clients from so many different industries, creating outstanding work for them, and working alongside creative people in-house. The variety and diversity of what I do day by day is great. All in all, this place just suits me. 
Do you think Chaptr has taken on a bit of your identity as well as you taking on Chaptr in yours?
Yeah, I think that's a lovely way of looking at it. The way we create relationships and interact with clients has been something I've been able to own. I'd say that's certainly reflective of my personality.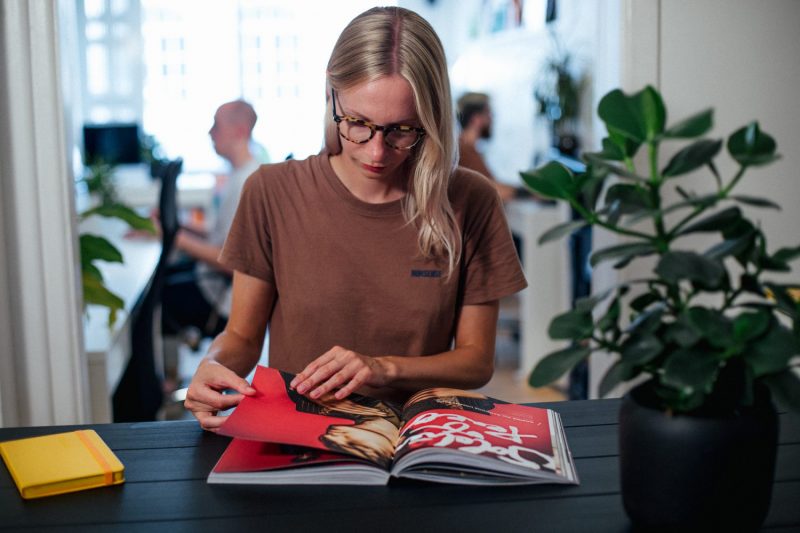 So what does an Operations Director do?
I'll be doing all the things I do now – managing projects, maintaining new business relationships, looking after the team, all that stuff. Alongside that, though, I'll be keeping a close eye on how we can improve our processes to become more efficient. I'm looking forward to working on the higher level stuff that helps the agency grow sustainably. 
For example, we're looking to hire both a front-end developer and a UX/UI designer, and I'll be making more decisions around the hiring process. I'm set on continuing to build the right team for Chaptr. 
What does this mean for our clients?
I'll still be proudly heading up client and project management with support from the team, but I'll be the final decision maker on a lot of project-based decisions. I'll have a more holistic view of what the studio's doing and where our capabilities can be better utilised, and I'll be able to get questions answered as soon as they're raised. Hopefully, that's something that clients will be happy to hear!
Aside from the founders, am I right in thinking you're the longest-serving member on staff? 
I think it's between myself and Connor… Honestly, I don't remember who started first. The start dates were very close – I was working part-time and he was on an internship. I also remember I had to go home sick on my first day. I came home thinking "this is the worst first day ever" (worked out well in the end!).
So, since then, what's been your proudest achievement at Chaptr?
I don't think I have one specific piece of work or example – for me it's broader than that. Looking back, I'm really proud of what the agency has become. When I started we were still pretty small-time, working mostly with local clients. We've come a really long way since then, and I know that's been something I've been partly responsible for, which makes me really happy looking back.
I'm also proud that we've managed to keep the bright-and-breezy attitude we had in the old days, with a more robust and dependable process level. The personability and relationship management has been huge for us in winning business; we've had feedback from projects we've won where it's all about just getting on with us and trusting us. Building a relationship can win you a project, it can be what sets you apart from your competition. 
Where do you see Chaptr in the next few years?
I mentioned before that we're looking to fill a few vacancies right now. As Operations Director, my main goal is to continue to build the right team and keep growing sustainably. I'd like to work on projects we all enjoy and look great on our portfolio. We've worked with the likes of Good Club, Gemfields, This Is Beyond – and I want to work with more of these kinds of clients; these are the kinds of projects that I feel the agency can produce it's best and most creative work. 
Thanks for reading. We're dead proud of Kirsty, and if you've had the pleasure of working with her, I'm sure you'll know exactly why. And if you haven't, get in touch today and see how Chaptr can help your business grow. We're experts in bespoke WordPress design, development, marketing, SEO, and a whole lot more. Click here for more info.