IDS Media (IDS) is an independent out-of-home (OOH) media owner and an expert in health and wellness. The existing IDS website, built on a Squarespace platform, was not fit for its purpose, was inflexible and was a source of frustration for the marketing department.
The Content Management System (CMS) made it difficult to create new pages and the website itself failed to generate any quality leads and the user experience (UX) and design failed to effectively and professionally represent IDS' core values.
Visit Site
Our Understanding
IDS wanted to invest in a custom-built and unique website to meet the current needs, mission and aspirations of the organisation. They required a high-quality website, with a design that quickly generates trust to attract and convert marketing-qualified leads. The following project goals were set for the website:
Clearly communicate its brand message and story

Quickly segment its target audience

Designed for lead generation with clear calls to action (CTA)

Is quick and easy to update

Functions and displays beautifully on desktop and mobile devices

Has a simplistic, content-driven layout that is concise, and easy to navigate and digest.
User Experience
We conducted a thorough UX workshop with IDS, over multiple in-person sessions. We dissected the old site, set clear goals for the new site and used this as a foundation to create a direction for the project going forward. Having established that lead generation was the primary goal, we developed various user flows and wireframes and conducted usability testing. This ensured that the user could navigate the site with ease and purpose, in a manner optimised for generating leads.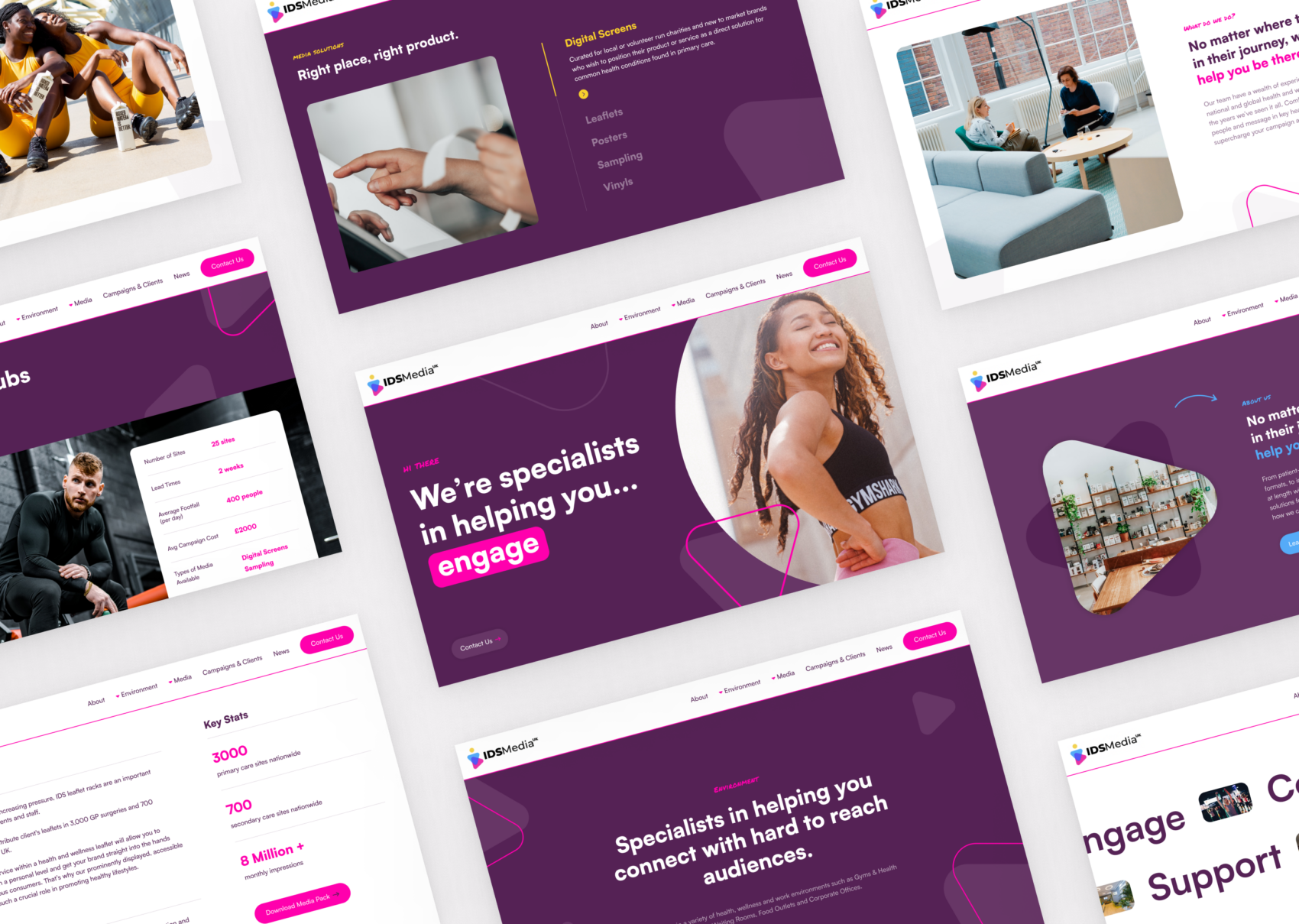 Enhancing The Digital Identity
IDS expressed the need for a refreshed digital identity that refined and modernised the style inherited from the old site, without straying too far from the original IDS brand. To help achieve this, we reduced the number of colour variations IDS was using and created a smaller but impactful colour palette, improving brand recognition. We paired a playful sans-serif typeface with a handwritten script to give the text sections a more personal touch without compromising legibility. We also extracted shapes from the logo, stacked them with different strokes and fills and applied them to different sections across the site to create a recurring, on-brand graphical device.
Web Design
We created a website that proudly boasts the refreshed digital identity, whilst still focusing on the usability standards and goals established in the UX phase. Utilising adaptable content sections allowed us to create a future-proof site. IDS can update the content of its site as frequently as required, without breaking the layout or disrupting the transition between desktop and mobile. Nifty UI elements such as animated hand-drawn arrows, interlocking image graphics and oversized text/image carousels, combine to give the side a genuine bespoke quality.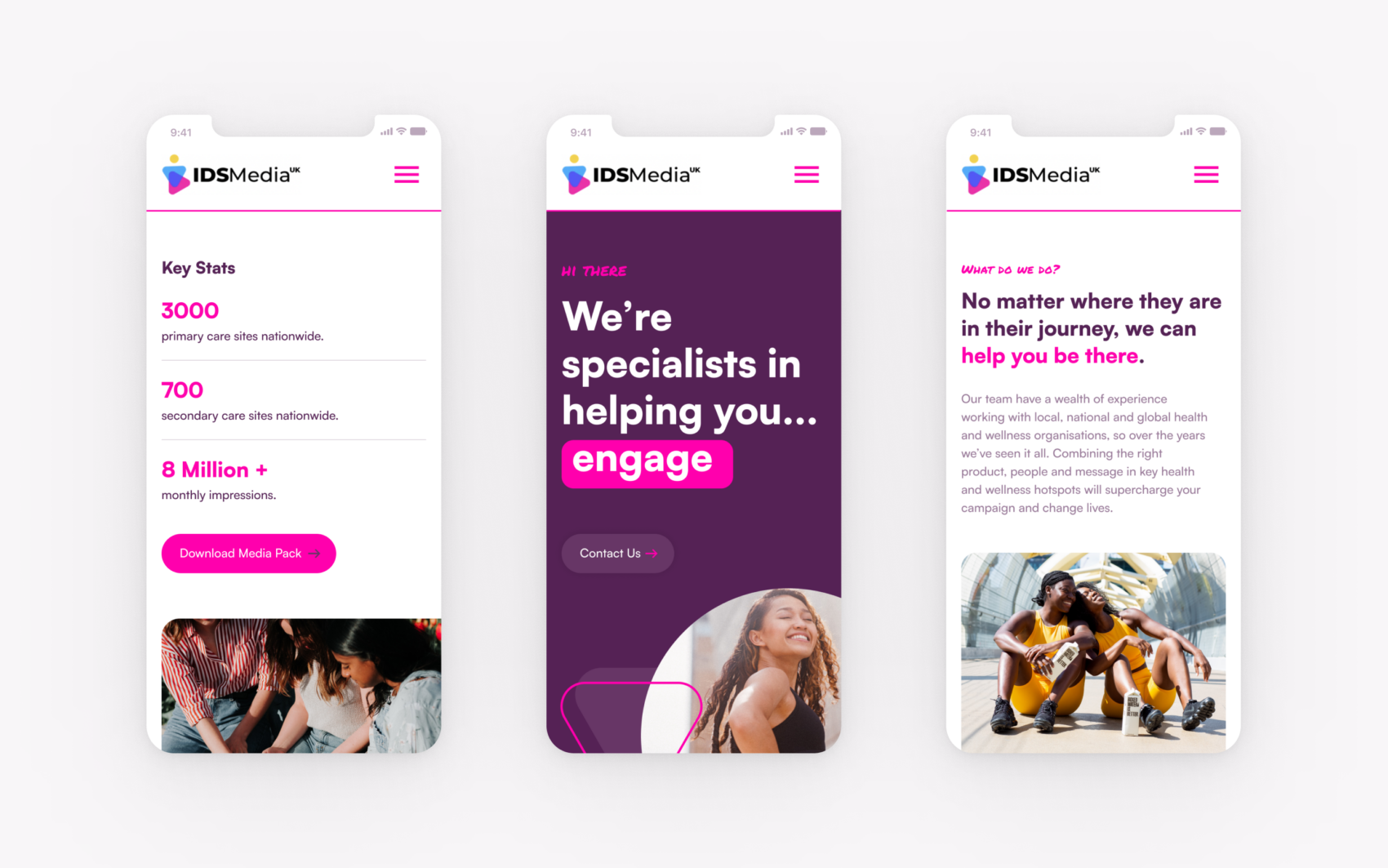 Development
Using a templated process allowed us to be more creative with the sections within. We took advantage of this with a lot of custom animations and subtle touches to bring the site to life. We also created a custom ajax filter system to quickly search through their clients.
SEO
The existing IDS website wasn't performing from an SEO perspective. So once we had an SEO snapshot, we made sure that any important data was included in the migration and are working with IDS on an ongoing basis to support them with and improve their organic search rankings so they can attract and convert more targeted leads.
"They are both professional and friendly, with a real can-do attitude without over-promising. Our expectations were always very well managed. We loved working with them."

Harriet Bush – Head of Marketing at IDS Media UK